Mold Removal Service in Apache Junction, AZ
Insurance Approved • Direct Billing Available!
Schedule Your Free Visual Inspection
Apache Junction Mold Removal
Mold Removal Apache Junction | Apache Junction Mold Remediation
If you think you may have a mold infestation in your Apache Junction home, it's important to get it inspected right away. Not all house molds are toxic, but any mold in your home will negatively affect the health of you and your family. Our IICRC certified technicians have the skill and experience to handle any Apache Junction mold removal .
The Problem With Mold Infestation
Mold needs moisture and food to grow. Molds are eukaryotic micro-organisms that feed off of decomposing and dead organic materials like leaves, wood, and plants. Their individual mold colonies are too small to see, but when enough mold starts to grow on a surface it will often appear to be black, blue, or green.
You can commonly find mold anywhere in your home, but it especially likes damp and dark areas like underneath kitchen or bathroom sinks or behind walls with plumbing. Most people are not affected by small amounts of mold in the air, unless they are extremely susceptible. Mold can grow extremely quickly, though and can easily turn into a problem for anyone in Apache Junction.
Don't let mold take over your home. Call our 24/7 Emergency Apache Junction mold removal and mold remediation service Now. We have nearly two decades of experience to help you and your family with any and all mold damage Apache Junction.
Call  602-748-4448 Today or schedule a FREE Visual Inspection here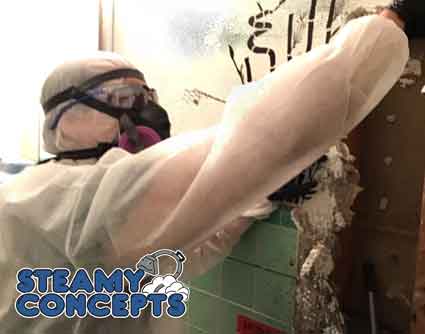 Mold removal Process
The most important step in the mold remediation process is containing the mold to stop it from spreading further inside your home. Mold spreads quickly and must be completely contained. All mold infested materials must be removed properly and thoroughly, especially if they're porous. Our certified mold removal Apache Junction technicians will make sure to protect and store any personal property during this step.
Now we bring in the HEPA (High-Efficiency Particle Air) Vacuum, which is capable of sucking up and trapping 99.97 percent of all airborne particles larger than 0.3 microns. Once the air is clear of any contaminants, our technicians will start to apply an antimicrobial product to kill the spread of any surface microorganisms and completely eradicate the infestation.
We always send in an independent lab testing and indoor environmental specialist to verify that the mold removal was successful. We maintain the absolute highest level of customer satisfaction in Southern Arizona, and will always help you however we can during these events.
Call us today!
Mold can happen to anyone, and it's an issue that should be handled with extreme caution and care.  If you suspect that you may have mold on walls or mold in house, take action as soon as possible.
Call  602-748-4448 Today or schedule a FREE Visual Inspection here
Our Apache Junction Mold Removal 24/7 Emergency Service:
Is your home in emergency and you need a mold expert right away? You can call us at 602-748-4448 or schedule a FREE Visual Inspection here. A mold professional will be in contact with you shortly if not instantly.
Schedule Your Free Visual Inspection