Mold Removal Service in Avondale, AZ
Insurance Approved • Direct Billing Available!
Schedule Your Free Visual Inspection
Mold Removal Avondale Az | Avondale Mold Remediation
Almost every home will have some sort of mold issue, but what do you do when it happens to you? The real trick to quickly solving any mold problem is to perform a mold remediation before it becomes too large. If you have mold on the wall, floor, or ceiling, you might have unknown water moisture coming from somewhere causing this entire mold infestation in your home to grow.
Don't panic though. Our licensed and certified mold damage specialists have years of experience performing Avondale mold removal and Southern Arizona!
Mold isn't only bad for the structure of your home, though. It can also be detrimental to your health or the health of your family. It's important to take extreme caution around any mold in home, as many people are commonly allergic and some molds can even be toxic.
If you suspect that your Avondale home may be giving mold a place to grow, call us today to get a free visual mold inspection.
We have been Avondale's experts in mold remediation for years. We have a complete and extensive IICRC Certified mold removal process, so whether it's black mold or other mold damage, our specialized technicians will remove any mold inside your home altogether.
Call  602-748-4448 Today or schedule a FREE Visual Inspection here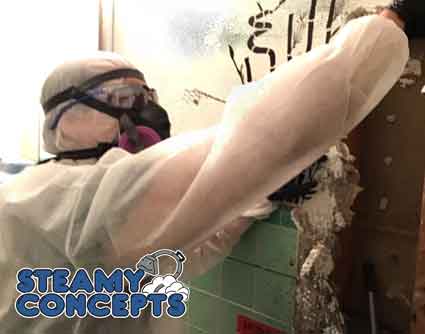 Our Avondale mold removal Process
Our process includes four important steps. With every mold remediation, we are called to, we always start by ensuring the mold infestation is completely contained and can no longer spread. After establishing a containment area, we quickly evaluate surfaces that have been exposed to the mold and are porous enough to harbor spores.
Mold grows and spreads in places you don't notice, until you spot surface staining, feel mushy drywall or detect that musty smell. This is important because these spores can lay dormant in these surfaces until they're re-exposed to moisture. We will remove any infested or damaged material, then continue on to step three to ensure the mold is gone for good.
Our technicians use a specialized vacuum called a HEPA-Vac to suck up any moldy debris and other contaminants to avoid further spore spread. We also apply anti-microbial for the same reason.
The final step is lab testing. We make sure the entire area has been freed from any noticeable mold and moisture and professionally lab test everything upon completion.
Where is mold found?
Mold can usually be found in warm and damp areas throughout your home. Some common places are underneath or behind refrigerators and leaking air conditioning units.
Call us today if you suspect the presence of mold in your Avondale home. We are exceptionally skilled in mold removal Avondale and have been providing southern Arizona with great results for nearly 20 years.
After times of heavy moisture like monsoon season, it's important that you take action at the first site of mold before it spreads. Call us today for the best mold remediation service in Avondale!
Call  602-748-4448 Today or schedule a FREE Visual Inspection here
Our Avondale Mold Removal 24/7 Emergency Service:
Is your home in emergency and you need a mold expert right away? You can call us at 602-748-4448 or schedule a FREE Visual Inspection here. A mold professional will be in contact with you shortly if not instantly.