Mold Removal Service in Surprise, AZ
Insurance Approved • Direct Billing Available!
Schedule Your Free Visual Inspection
Mold Removal Surprise, AZ Service for Your Home!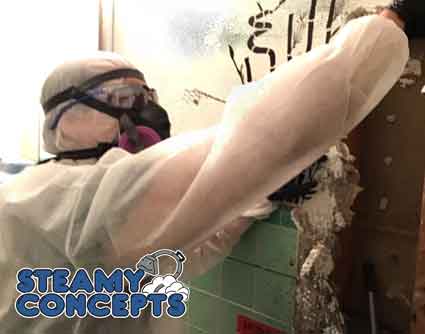 You may be a little surprised when you find a bit of mold in your Surprise, AZ home. Steamy Concepts is a Surprise mold removal company and will help you in every step of the way. When it comes to keeping your home healthy, the number one concern is a mold infection. When mold spreads throughout the air, airborne spores can cause significant health problems like weakened immune systems or asthma.
Our priority during our black mold removal process is to seal off the infected area so the mold spores don't infect the rest of your home. We then remove and dispose of all the items that are porous or absorbent and can't be restored, like carpet. Everything left is then cleaned using an antimicrobial spray. Finally, A third party will then run lab and air samples to ensure your home is happy and healthy once again, and the reports will be provided you. You can count on Steamy Concepts to take care of your mold removal Surprise, AZ issues.
Steamy Concepts has been providing regular maintenance for healthy carpets, tile and grout, and homes for almost 20 years. Let us help you and your family be healthier!
Do you need expert mold assistance right away? You can call us at 602-748-4448 or schedule a FREE Visual Inspection here. A mold professional will be in contact with you shortly if not instantly.
Surprise Mold Removal Service Areas:
Looking for a mold removal Surprise, AZ service? Consider Steamy Concepts! Below we have listed the available zip codes we service for Surprise, AZ! The mold removal service areas below are included but are not limited to those zip codes. If you have any questions about your Surprise mold removal, call us at 602-748-4448 or schedule a FREE Visual Inspection with us right away.
85335
85355
85361
85374
85378
85379
85387
85388
85396
Schedule Your Free Visual Inspection