#1 For Carpet Cleaning In Surprise, AZ | 3 Rooms for $99!
Do You Need Carpet Cleaning In Surprise, AZ?
Affordable Carpet Cleaning in Surprise, AZ
Are your carpets starting to look dingy and worn at your home in Surprise? Are there darker track marks indicating the paths most traveled? Keeping your carpet clean, not only helps the health of your carpet, but also the health for your family or guests. The the microbes, small insects, bacteria, and germs produce waste products that remain in your carpet. Mold is a microbe that can live not only in your carpet, but anywhere there is moisture and warmth. This all affects the health of you and your family negatively, especially for those who might already suffer from respiratory problems.
Before and After Carpet Cleaning Service in Surprise
Check out the results our cleaners can bring to your floors in Surprise, AZ. Like what you see? Contact us today to schedule an appointment. Our techs will arrive on time, dressed in uniform, and ready to provide you excellent service. Using state the highest grade cleaning solutions and equipment to get the job done right!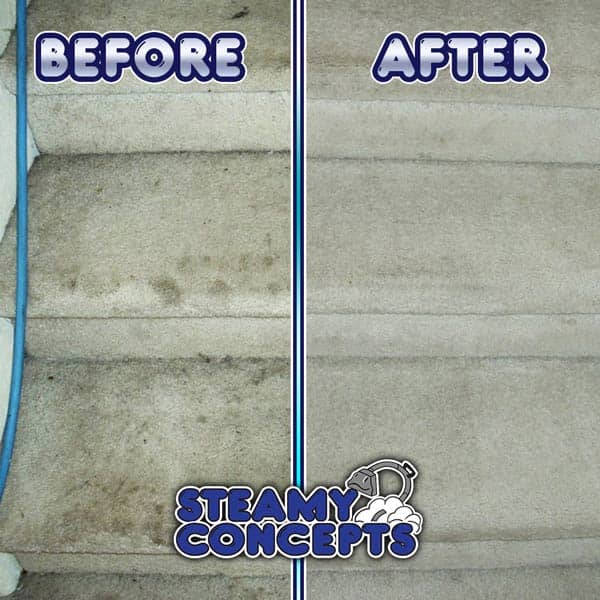 Professional Carpet Cleaning in Surprise
If you are on this page, you may be looking for a professional carpet cleaning service in Surprise. Look no further than Steamy Concepts to help you maintain your carpet. Over time, your carpet builds up all the dirt, grime, and pests to nest into your carpet. Leaving your carpet in such a dirty state may lead to permanent damage to your carpets or health issues. Carpet pests can spread and cause allergies to you, your family, and even your pets. Routine and proper cleaning will help your carpet prosper and survive for a very long time. Our pre-spray solutions are eco-friendly and safe but will be strong enough to bring all your carpet problems to the surface, making it easier to remove them from your home. Our high-temperature steam cleaning process will properly clean through your carpet and kill any bacteria or pests inside your carpet. The truck-mounted water extraction procedure takes out all the trash from the cleaning and removes it from your home. You'll notice a huge difference from before you had a great carpet cleaning Surprise, AZ service from Steamy Concepts. Are you convinced? Call now at 602-748-4448, or schedule online with us right away.
Benefits of Our Carpet Cleaning Service
Save Money – We offer the best Carpet Cleaning in Surprise, with affordable prices guaranteed.
Always on Time and Professional – Our professionals are always on time to their appointments and ready to serve your cleaning needs!
High-Quality Services – We leave your carpet feeling cleaner and fresher than ever before. You may even think its new!
The Best Carpet Cleaning in Surprise
Our technicians are experienced, clean-cut, uniformed and arrive onsite in a branded & professional company vehicle. Our employees on the field and in the office are trained to deliver only the best customer service to you and your home.
Avoid falling for the "cheap prices" trick by a run of the mill or bait & switch companies. Steamy Concepts only uses the most professional, high-powered truck-mounted cleaning machines available.
All Professional carpet cleaning services in Surprise carry an unconditional 7-day warranty with state-of-the-art techniques that remove dirt, soil, and pet stains for good.
We are so confident that our pet damage removal system will back it up with a 30-day guarantee. If any stains or odors return within 30 days then so will we, at no added cost to you.
Trusted Carpet Cleaning in Surprise
Steamy Concepts provides the best carpet cleaning in Surprise, AZ. With over 2,500 5-Star reviews, Our certified technicians work hard to provide you with the best possible results. We use cleaning products and processes that are safe for your family and pets. Contact us today to get a free quote and book a cleaning. We are so confident with our work we back it with a 100% satisfaction guarantee! Our service comes with many benefits including cheaper prices than the others! We are always on time and ready to provide high-quality service. Give us a call today or fill out our contact from to get started!
You deserve a great carpet cleaning service, or floor cleaning service in Surprise. Call Steamy Concepts now at 602-748-4448, or schedule now using our online scheduler.