Mold Removal Service in Litchfield Park, AZ
Insurance Approved • Direct Billing Available!
Schedule Your Free Visual Inspection
Litchfield Park Mold Removal
Mold Removal Litchfield Park Az | Litchfield Park Mold Remediation
When tiny mold spores travel through the air and settle, under the right conditions, mold or mildew can multiply quickly, often going undetected, and become a problem inside your home. Mold can grow almost anywhere when moisture is present, making water damage and leaking areas in your home a real concern. It's important to remove any mold from your home before it becomes a bigger issue. We've been serving southern Arizona for nearly 20 years, and are far and away the experts when it comes to Litchfield Park mold removal.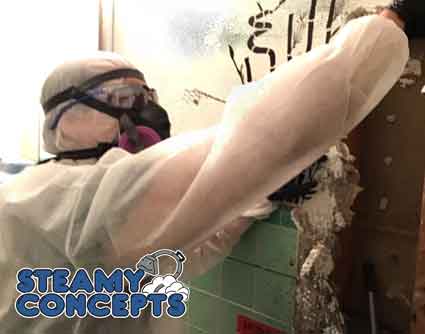 What is mold?
Mold is a fungus that lives off of organic matter and thrives in warm, humid environments. Of course this doesn't sound like the dry desert heat we experience in Litchfield Park, but it does describe certain areas of your home. Mold can be very damaging to a home. If you start to notice damp, musty odors you may need mold removal. The real key is to treat the problem immediately before it becomes worse and causes permanent mold damage.
We are the leader in Litchfield Park mold remediation and have been providing our customers with the best mold testing, inspection, and mold removal for almost two decades. Combining years of skill and experience with state of the art IICRC certified equipment, our professional technicians will handle any mold problem, big or small.
Call  602-748-4448 Today or schedule a FREE Visual Inspection here
Where does mold grow?
Mold can multiply on almost any porous surface when combined with damp, stagnant air. You'll usually find it in warmer areas that stay out of site. Some examples include:
Drywall, wallboards, and around leaky windows
Leaky A/C units
Under carpet
Beneath kitchen and bathroom sinks
Behind walls with plumbing
Underneath or behind refrigerators
The effects of mold may not only include the potential for structural damage to your home, but can also cause serious health problem for you and your family. Proper mold testing, mold inspection, and remediation will involve containing the mold and removing any infested, porous materials to improve the air quality in your home and create a safe and healthy environment.
Our Mold Removal Litchfield Park process includes:
Ensuring the mold is contained from spreading
Removing all contaminated materials
Using HEPA Vac and Antimicrobial to eradicate the mold
Test the area after completion
Customer receives all profession lab results
Call us today!
Mold can happen to anyone, and it's an issue that should be handled with extreme caution and care.  If you suspect that you may have mold on walls or mold in house, take action as soon as possible.
Call  602-748-4448 Today or schedule a FREE Visual Inspection here
Our Litchfield Park Mold Removal 24/7 Emergency Service:
Is your home in emergency and you need a mold expert right away? You can call us at 602-748-4448 or schedule a FREE Visual Inspection here. A mold professional will be in contact with you shortly if not instantly.