Mold Removal Service in Casa Grande, AZ
Insurance Approved • Direct Billing Available!
Schedule Your Free Visual Inspection
Mold removal Casa Grande | Casa Grande mold remediation
Even if you have a healthy immune system and no allergies, mold can cause a variety of health issues – wheezing, coughing, itching, leaky or red eyes, and throat irritation are just a few. Exposure to mold can be a big problem for you and your family, so it's important to take measures to minimize risks and prevent mold from spreading throughout your home. If you believe you could have mold in your Casa Grande home, call the experts in all things mold remediation and Casa Grande mold removal.
What is mold?
Mold is a type of fungus that spits out tiny spores into the air. Unfortunately, spores can travel extreme distances and colonize quickly, making it easy for a small mold issue to spread in a relatively short span of time. Mold can be very damaging to a home. If you start to notice damp, musty odors you may need mold removal. The real key is to treat the problem immediately before it becomes worse and causes permanent mold damage.
We have been the leaders in southern Arizona mold removal for almost 20 years. If you have black mold on the walls, or anywhere in your home, our experienced and qualified professionals will devote themselves to clearing your home of any mold infestation as fast as possible to stop it completely from spreading.
Call  602-748-4448 Today or schedule a FREE Visual Inspection here
Where is mold found?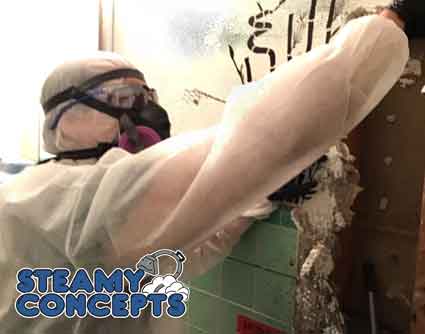 Mold can usually be found:
Basements or cellars that have been flooded
Underneath kitchen and bathroom sinks
Underneath or behind refrigerators
Behind walls that also house plumbing
Stacks of damp or wet newspaper or cardboard boxes
Around air-conditioning units
Wallboard or around windows that leak
Under carpeting that may have become wet
Mold could be anywhere though, and is usually found in areas that stay out of site. Proper mold testing, mold inspection, and remediation will involve containing the mold and removing any infested, porous materials.
We only use state of the art, IICRC Certified equipment and tools for every single customer requiring Casa Grande mold removal. We aim to exceed expectations every time, and strive to do everything we can to eliminate any mold in house. There is no mold problem that is too much for our specialists to handle.
Call  602-748-4448 Today or schedule a FREE Visual Inspection here
Our Casa Grande Mold Removal 24/7 Emergency Service:
Is your home in emergency and you need a mold expert right away? You can call us at 602-748-4448 or schedule a FREE Visual Inspection here. A mold professional will be in contact with you shortly if not instantly.
Schedule Your Free Visual Inspection