Mold Removal Service in Buckeye, AZ
Insurance Approved • Direct Billing Available!
Schedule Your Free Visual Inspection
Mold Removal Buckeye Az | Buckeye Mold Remediation
Mold lives off of organic matter and thrives in warm, humid environments. Of course this doesn't sound like the dry desert heat we experience in Buckeye, but it does describe certain areas of your home. Some common places to find mold on your walls or mold in your home are behind leaky air conditioning units, behind walls with plumbing, under carpet that may have become wet, and behind wallboards or around leaking windows.
If you think you may be experiencing mold, act quickly. Our certified mold specialists will provide a free mold inspection and are the absolute best for Buckeye mold removal.
When mold finds a good spot in your home, mold damage tends to spread very quickly making it much harder to get rid of. Some common types of mold are cladosporium, penicillium, alernaria, and Stachybotrys chartarum (Black Mold), which can all have negative health effects if inhaled, ingested, or absorbed through the skin. You may not even know that you have mold in your house, as it can be hidden in spots that are usually out of sight.
If there are any signs of mold in your home you can call us today to schedule a Free visual mold inspection. Our certified mold specialists offer 24/7 emergency services for mold remediation.
Call  602-748-4448 Today or schedule a FREE Visual Inspection here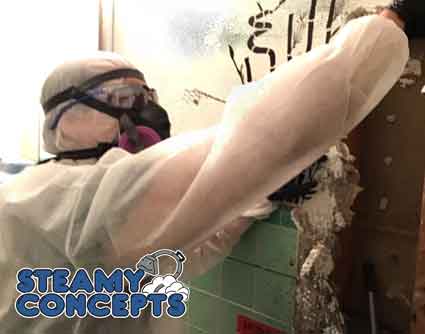 Mold infested and mold damaged areas are dangerous to inhabit and can cause many indoor allergy symptoms including:
Wheezing
Coughing
Watering Eyes
Itching
Red Eyes
Weakened Immune System
Asthma
Monsoon season can provide the perfect environment for mold to grow. Look for spaces that usually have moisture, because spots with moisture or leakage will most likely be harboring mold and spores.
Our Mold Removal Buckeye process includes:
Ensuring the mold is contained from spreading
Removing all contaminated materials
Using HEPA Vac and Antimicrobial to eradicate the mold
Test the area after completion
The customer receives all profession lab results
Call the number one mold remediation specialist in southern Arizona to help with any mold issues you may be experiencing. We strive to exceed all expectations and aim for the topmost levels of customer satisfaction for every mold removal Buckeye.
Call  602-748-4448 Today or schedule a FREE Visual Inspection here
Our Buckeye Mold Removal 24/7 Emergency Service:
Is your home in an emergency and you need a mold expert right away? You can call us at 602-748-4448 or schedule a FREE Visual Inspection here. A mold professional will be in contact with you shortly if not instantly.