Mold Removal Service in Anthem, AZ
Insurance Approved • Direct Billing Available!
Schedule Your Free Visual Inspection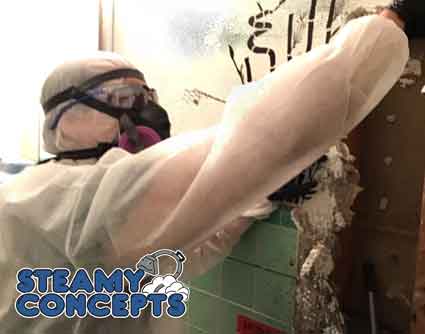 Did you find mold in your Anthem, AZ home? Don't let mold get you down! Steamy Concepts is an Anthem mold removal & remediation service you can call. Steamy Concepts can make your house look like mold never happened. While many Anthem companies cover the black mold symptoms of mold like the smell and the unsightly marks it may leave on your wall, they fail to address the underlying problem. If not actually resolved mold can continue to spread, and it can cause major health issues and structural damage. Steamy Concepts gets to the root of the problem. We eliminate and replace material that can't be saved. The remainder is subjected to rigorous sanding, scrubbing or sanitizing as the need may be to erase any trace of mold. This whole process is contained so the mold spores don't spread throughout the area. You'll be able to rest easy and feel confident when a third party inspector provides you with a report at the end to show that the area is once again free from mold.
We all deserve to live, work and play in an area without filth or health risks in Anthem, AZ. Steamy Concepts believes that and is working everyday to achieve that. Why not give us a call today, our team is friendly and happy to help!
Anthem Mold Removal Process:
Steamy Concepts offers FREE visual inspections for mold damage in your home. During our mold inspection, we will determine the best course of action in handling all of your Anthem mold issues. If you have a home or business suspected of being infested with mold, call or schedule a FREE inspection with us right away. Steamy Concepts is a trained and certified professional mold removal company. Our technicians are trained to handle mold professionally and take care of your problem. The mold removal procedure is used to remove all the health risks in your home and make it livable and safe.
Is your Anthem, AZ home in peril and you need a mold expert right away? You can call us at 602-748-4448 or schedule a FREE Visual Inspection here. A mold professional will be in contact with you shortly if not instantly.
If you need mold inspection & removal services in Anthem, AZ, we can probably service your area. We provide Anthem mold removal and inspection to the area service area of 85086. This area is included but not limited to the range of our service.
Schedule Your Free Visual Inspection