Mold Removal Service in Sun City, AZ
Insurance Approved • Direct Billing Available!
Schedule Your Free Visual Inspection
Mold Removal Sun City | Sun City Mold Remediation
Finding mold in your home or office can be a scary situation. Mold is a common fungus found almost everywhere, but when it starts to grow it can become dangerous.  Many molds are not toxic, but any type of mold can start to cause serious health effects if allowed to grow and spread throughout your home.  If you see or smell mold, it's important that you reach out to a professional mold detection company, like us. We are the leader in mold detection and remediation in southern Arizona, and there's no one better when it comes to Sun City mold removal.
Some common health issues that can happen when mold spores fill the air include:
Headaches
Breathing difficulties
Persistent cough or cold symptoms
Burning or irritation of the eyes, nose, throat or lungs
Asthma attacks
Hypersensitivity pneumonitis
Skin irritation
Allergic reactions
Opportunistic infections in immune-compromised individuals
If you suspect you may have a mold infestation in your home or office, call us Now! Combining years of skill and experience with state of the art IICRC certified equipment, our professional technicians will handle any mold problem, big or small.
Call  602-748-4448 Today or schedule a FREE Visual Inspection here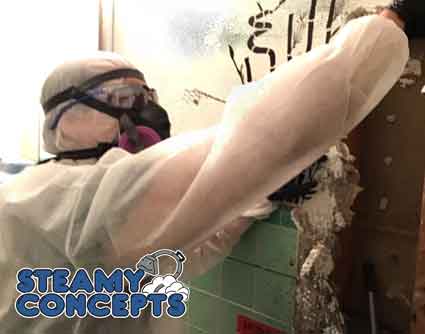 Our Mold Removal Sun City process includes:
Ensuring the mold is contained from spreading
Removing all contaminated materials
Using a HEPA (High-Efficiency Particle Air) Vacuum and Antimicrobial to eradicate the mold
Testing the area after completion to confirm the mold is eliminated
Where Mold Grows
Molds can grow almost anywhere, provided there is moisture and organic material. To spread, Molds release spores that travel through the air and attach to porous materials like walls and fabrics.
You can usually see or smell a mold problem. Molds will produce musty odors, and tend to grow in dark, warm areas that may be out of sight. Mold can appear within 48 hours of a spore landing on a moist surface, and tends to spread quickly, so be wary of any water damage or leaky pipes.
Don't let mold take over your home. Call our 24/7 Emergency Sun City mold damage and mold remediation service Now. We have the skills and experience to help you and your family with any and all mold removal Sun City.
Call  602-748-4448 Today or schedule a FREE Visual Inspection here
Our Casa Grande Mold Removal 24/7 Emergency Service:
Is your home in emergency and you need a mold expert right away? You can call us at 602-748-4448 or schedule a FREE Visual Inspection here. A mold professional will be in contact with you shortly if not instantly.
Schedule Your Free Visual Inspection