#1 For Carpet Cleaning In Paradise Valley, AZ | 3 Rooms for $99!
Looking for a Carpet Cleaning In Paradise Valley, AZ?
Affordable Carpet Cleaning In Paradise, AZ
Got dirty carpets that need cleaning in Paradise Valley? Steamy Concepts is the carpet cleaning company you need for your home! Carpet cleaning in Paradise Valley, AZ has never been better. We use only professional-grade products and we gauge the needs of each home individually. You may not realize that most warranties for carpeting are only valid if the carpets are cleaned regularly. This is because carpet companies know that professional cleaners will make your carpet live longer and look better. Beyond that, it makes your home a healthier place to live. There are thousands of microorganisms that can find a home in your carpet fibers. Carpet weevils and other tiny insects may have gotten comfy there without you even knowing it. They could make anyone in your home more susceptible to allergies. Which not only poses health risks but can lead to the destruction of your carpet.
Professional Carpet Cleaners In Paradise Valley
As a professional carpet cleaner in Paradise Valley company, we offer many options to help bring your carpet and home back to full health and potential. If you have pets, you can opt for our pet treatment solution which will help get rid of pet stains, odors, and other critters they may have brought in. It is recommended if you have pets or your home has a history of pets to get the best of your cleaning. We start by giving the carpet a pre-spray solution which will help loosen all of the unwanted carpet stains and grime. Our team uses water-heated to nearly 200 degrees to remove the cleaning solution pre-applied and the heat will eliminate any pests trying to move in on your turf. Using our water extraction method, carpet grime and pests gets sucked away with the dirt and the stains and your carpet is fresh and clean once again. Need a Paradise Valley carpet cleaning service? Look no further than Steamy Concepts. Call us now at 602-748-4448, or schedule now using our quick estimation system.
Before and After Carpet Cleaning Service in Paradise Valley
Check out the results Steamy Concepts can bring to you with our cleaning services today! Like what you see? Give us a call and we'll get you scheduled right away. Let's bring your floors back to life!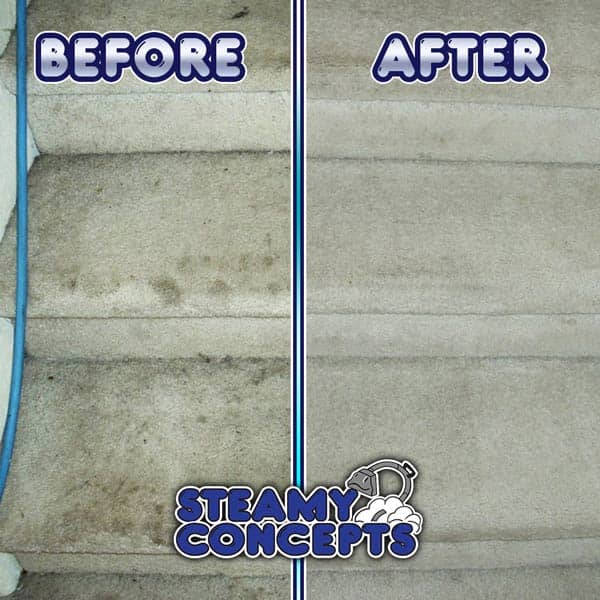 Benefits Of Our Carpet Cleaning Service
Save Money – We offer the best Carpet Cleaning in Paradise Valley, with affordable prices guaranteed.
Always on Time and Professional – Our professionals are always on time to their appointments and ready to serve your cleaning needs!
High-Quality Services – We leave your carpet feeling cleaner and fresher than ever before. You may even think its new!
The Best Carpet Cleaning in Paradise Valley
Our technicians are experienced, clean-cut, uniformed and arrive onsite in a branded & professional company vehicle. Our employees on the field and in the office are trained to deliver only the best customer service to you and your home.
Avoid falling for the "cheap prices" trick by a run of the mill or bait & switch companies. Steamy Concepts only uses the most professional, high-powered truck-mounted cleaning machines available.
All Professional carpet cleaning services in Paradise Valley carry an unconditional 7-day warranty with state-of-the-art techniques that remove dirt, soil, and pet stains for good.
We are so confident that our pet damage removal system will back it up with a 30-day guarantee. If any stains or odors return within 30 days then so will we, at no added cost to you.
If you want a Paradise Valley carpet cleaning, or a Paradise Valley tile cleaning, Steamy Concepts is the way to go! Call us now at 602-748-4448, or schedule now using our online scheduler.