Arizona Daily Star's Readers Choice Awards: Best of 2017 Winners
If you need another reason to choose Steamy Concepts, then you don't have to look far! For the 2nd year in a row, Steamy Concepts has kept the streak of winning Arizona Daily Star's Reader Choice Awards from 2016. Steamy Concepts has won the categories of Best Carpet Cleaning Company, Best Mold Remediation, Best Grout Cleaners, and The Best Locally Owned Business once again in 2017. Steamy Concepts has experienced field technicians and office staff working hard to bring you the best service to your Tucson & Phoenix homes.
Best Carpet Cleaning Company
Carpet Cleaning is our cream of the crop service we provide to Arizona homes. Our steam cleaning process will be enough to eliminate the dirt and grime in your carpet or rug. As a green and environmentally aware company, we use safe and eco-friendly solutions. We want to keep your carpets clean and your pets & kids safe. Our professional technicians are trained to remove the worst stains and spots in your home. Steamy Concepts strives to make a difference in your home. If there are any concerns with your service, Steamy Concepts will take your concerns seriously and make it right!
Best Mold Remediation Company
As a Mold remediation company in Tucson & Phoenix, we understand the dangers of mold. Mold is not a substance you want to leave in your home. Steamy Concepts has professionally trained and certified technicians to help remove and keep mold out of your home. We take extra steps to ensure that the mold threat in your home in eliminated once and for all while protecting the assets that are unaffected.
Best Grout Cleaners
As one of our primary services other than carpet cleaning, our tile & grout cleaning are superb. Steamy Concepts is the tile cleaning service in Tucson and Phoenix that you can trust to bring your tile & grout to shine and stand out. You may not even notice your tile is dirty before we clean it, and when we do, you will mostly likely see a huge difference difference. You don't have to be on your hands and knees scrubbing the grout away, along with your time and energy, when you have Steamy Concepts around. Keep your grout and tile floor squeaky clean with Steamy Concepts.
Best Locally Owned Business
Since 1998, we have been delivering our carpet cleaning, tile cleaning, mold remediation & more services to better your home. Steamy Concepts began in Tucson, AZ and is a locally and family owned business. As a local business that resides in our home town of Tucson, AZ, we love to get involved in our community. Steamy Concepts are proud sponsors of local youth football teams and proud donors for drives such as Toys for Tots. Steamy Concepts believes in giving back to the community that has helped it grow. Our services in Tucson have been strong and will be strong for years to come. If you are not in Tucson, you don't have to be left out. As our Tucson services continue to grow, we have continued to expand in Phoenix, AZ to bring our services to Northern Arizona.
Thank You For Your Support!
As your Readers Choice winners, we strive to continue delivering the greatest services to your home. Steamy Concepts thanks our valued customers for their support and would like to receive their continued patronage for years to come.
Thank you Arizona!
If you need a service in Tucson or Phoenix from Steamy Concepts, we will be happy to help you. Our services include carpet cleaning, tile cleaning, upholstery cleaning, and rug cleaning. Is your home in danger with mold and water damage, not to fear! Steamy Concepts also offers mold removal and remediation in addition to water damage removal! If you are in need of any of our services, give us a call at 520-282-4444, or schedule quickly online using our quick quote system. Have any questions? Give us a call or send us your questions using our online contact form.
Happy Holidays and a great New Year from Steamy Concepts!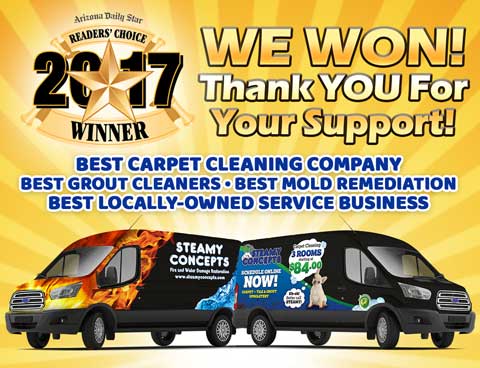 How Do You Actually Clean My Carpets?
How to Remove Almost Any Stain From Carpet (4 Incredible Techniques)
Ready to Book Your Appointment?
---
Other Blogs You May Be Interested In
---