Mold Removal Service in Scottsdale, AZ
Insurance Approved • Direct Billing Available!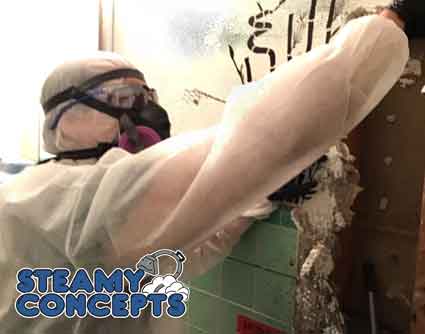 Scottsdale homes aren't exactly the cheapest homes. It is important to know what comes in and out of your home to maintain its value. Unfortunately, Mold can have a big part in bringing the value down from your Scottsdale, AZ home. Even in the most expensive homes, mold does not discriminate.  You need a top of the line Scottsdale mold inspection to pin down all of your mold. Every nook and cranny will have to be checked during the mold inspection process to further prepare it for mold removal. Steamy Concepts is a Scottsdale mold removal company that will help you find your mold and evict it from your expensive home. Don't wait and allow your mold damage to become more expensive for your home. You can call a Scottsdale, AZ mold removal company to get to the bottom of your mold issue right away.
Need Scottsdale Mold Removal? Here is What To Expect!
If you have discovered that your home or business contains mold, we can also offer professional guidance on resolving this issue. Even residences with a professional maintenance team are instructed to use a trained, certified company to handle mold affected areas more than 10 ft. There are multiple steps that we use to minimize the health risks and provide a complete mold remediation in Scottsdale for your home or business. We will contain the area so the mold spores don't spread and fill the air. Then any items that can't be cleaned are removed, such as drywall. Any remaining material is cleaned and restored to it's pre-mold condition. Once everything is put back together, you will receive a lab report with new tests to confirm that the area is once again safe and mold-free.
Do you need expert mold assistance right away? You can call us at 602-748-4448 or schedule a FREE Visual Inspection here. A mold professional will be in contact with you shortly if not instantly.
Does your home need a mold removal procedure or inspection?  Steamy Concepts can service your home for mold remediation if you are under these zip codes.
Scottsdale, AZ Area Codes We Service
85008
85018
85054
85250
85251
85253
85254
85255
85257
85258
85259
85260
85262
85266
85268
85281
85331