Do You Need Expert Help Now?
Insurance Approved • Direct Billing Available!
Tucson Mold Inspection & Mold Removal Service
"Steamy Concepts is your Tucson Mold Inspection, Tucson Mold removal, & Mold Damage Restoration Experts!"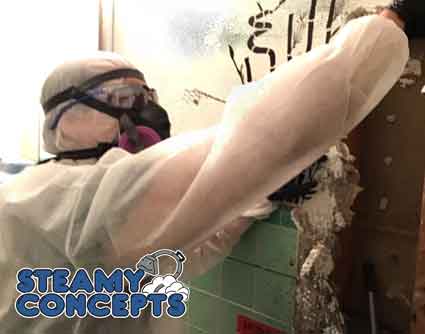 When it comes to having a mold infestation, health is a key concern. Mold infestations can cause numerous health problems, including respiratory illness, or even failure in the case of young, elderly, and suppressed people. Mold is a living organism, and as such needs to consume food sources to survive. In the case of it living on your house's structure it is consuming key structural elements, which can, over time, result in structural instability or failure, especially in baseboards, sheetrock, or framing. Some companies or individuals will suggest deodorizing, in order to get rid of the smell, and in some cases the visual evidence of mold. This does not work; mold needs to be killed and completely eradicated in order for the risks to your health and your home to be removed. As your Tucson Mold Removal, Mold Remediation & Mold Damage Restoration experts, Steamy Concepts has IICRC certified protocols that guarantee complete mold removal. First we will provide you a complete Tucson Mold Inspection to determine if mold removal is necessary.
Our Mold Removal Process
At Steamy Concepts, we are the Tucson experts in mold remediation. Our IICRC certified protocols guarantee complete mold removal. After the best quality Mold Inspection Tucson has never seen before we will start the removal process. First and foremost, the area is put into containment, to keep any airborne particles from spreading to other parts of the structure, or causing a health hazard to nearby humans or animals. By creating a negative pressure inside the containment area, we pass all air through air scrubbers, thereby removing any airborne particles or pathogens that may be present. We then remove all contaminated building materials that are porous that cannot be thoroughly cleaned or salvaged. If necessary, we will sand, clean, disinfect, and seal any contaminated framing, brickwork, flooring, or other unremovable structures. Once those steps are completed, we hepa-vac, and apply anti-microbial to all surfaces inside the containment, thereby rendering the room a clean room. Afterwards, we have a third-party indoor environmental professional inspect and do lab testing on completed project. Once finished, you can expect a report and lab report stating that all areas have been mitigated.
Black Mold: Symptoms and Professional Remediation and Removal
Black Mold, also known as Stachybotrys is a mold that can be toxic and can cause serious health issues if not accounted for. Residents can show symptoms as soon as they are exposed to black mold. Mild Symptoms include mental fog, headaches, vision problems, dizziness, and fatigue . Severe symptoms can range from but aren't limited to nausea, vomiting, abdominal/pain pain, and flu like symptoms. It is important to rid of black mold immediately so the symptoms do not escalate. Dp not try to remove black mold yourself. Only a professional mold removal company should handle the remediation of black mold. If you are experiencing painful and uncomfortable symptoms from mold exposure, call Steamy Concepts using our Emergency 24/7 Mold Removal Hotline, (520)-282-4444. A professional mold specialist can provide a FREE visual inspection and find the source of your black mold issues.
Personal Property
Steamy Concepts is here to help with your Tucson Mold Removal, Mold Remediation & Mold Damage Restoration. We offer not only damage restoration and structural drying for your home or business, but also contents evaluation and restoration as well as packing, moving, and storage of contents while services are rendered. If you have any questions about Tucson mold inspection and mold removal services please contact us at (520)-282-4444 or use our website Contact Form and we will reach back out to you as soon as possible.