Expert Help Available 24/7
Insurance Approved • Direct Billing Available!
Schedule Your Free Visual Inspection
Phoenix Mold Removal Details:
Steamy Concepts
2942 N 24th St Suite 114-655
Phoenix, AZ 85016
Click Here to See Phoenix ZIP CODES We Service
85003
85004
85006
85007
85008
85009
85012
85013
85014
85015
85016
85017
85018
85019
85020
85021
85022
85023
85024
85027
85028
85029
85031
85032
85033
85034
85035
85037
85040
85041
85042
85043
85044
85045
85048
85050
85051
85053
85054
85073
85083
85085
85086
Our Phoenix Black Mold Removal In Guarantees Complete Restoration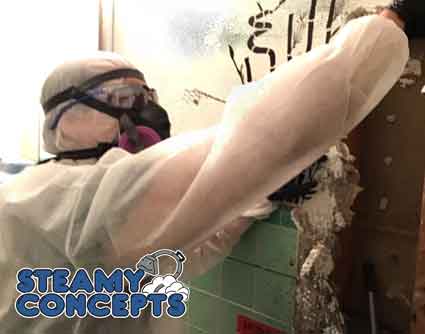 Black Mold Facts:
Black mold is thought to be the most toxic mold. The fact is that there are 50 – 60 strains that have been determined by experts to be hazardous to human's health. A mold infestation, including black mold exposure, can actually cause many health problems, including respiratory problems from mild to failure in young children, elderly, and ones who have suppressed immune systems. This is why we provide mold removal, including black mold removal, services.
As a living organism, all strains of mold needs food to survive. Mold in a residential or commercial structure uses the structure itself as a food source. Especially items like drywall, framing, floorboards, etc. Over time then, your home or office will lose structural integrity, and the black mold removal will ultimately be more timely and costly procedure to complete.
Removing Mold
Some companies might recommend bleach or deodorizing to kill the mold and remove the musty smell. However, this is only a temporary fix because this only addresses the mold you see, not the mold roots that have grown into the structure. These roots, if left behind, will grow again. The mold needs to be completely obliterated and killed at the root level to completely remove all health risks to you and your family, or your employees. As your Phoenix Black Mold Removal Experts, Steamy Concepts, follows procedures required by the Institute of Inspection Cleaning and Restoration Certification (IICRC) to guarantee a complete mold removal.
Black Mold Removal Procedure
Our first step would be to complete a free Mold Inspection to determine if mold removal would be needed. After the best Black Mold Removal Inspection Phoenix has ever seen is completed, then we ensure the area is contained. Using plastic sheeting and air scrubbers, we create a negative pressure containment area. This allows all biological agents, including mold spores, to be removed. This is particularly important during the next step, which is to remove all materials that are contaminated and that can't be salvaged. Next we can focus on sanding, cleaning, disinfecting and sealing any remaining framework, flooring, brick, or other unremovable materials that have been contaminated. Then we create a cleanroom by HEPA-Vacing the area and applying an anti-microbial solution to all the surface within the affected area. Lastly we have a third-party indoor environmental professional to inspect the affected area, perform lab tests, and we'll present you with a copy of the lab report showing that there is no mold detected.
Personal Property
Your assets need protection. In addition to our mold remediation services, we also provide content evaluation as well as packing, moving, and storing contents of the affected area while our services are being rendered.
Need Expert Help on Mold? Have any Questions?
If you need expert help on your black mold removal or if you have black mold damage, contact us right away or call 602-748-4448. Do not hesitate to call. We have a 24 Hour, 7 Days a week Emergency Service available to assist in your dire situations!